Monthly Report (June, 2015)
Church Name: Naga City Church of Christ
Church Address: 31 Gen. Santos St. Gimenez Park Subd. Zone 5, Concepcion Pequeňa, Naga City 4400
Minister: Bro. Recem C. Grencio
Contract Number: 09298309605 E-MAIL: recem_grencio@yahoo.com.ph
Membership: 242
Worship attendance:105_(Average)
Adult 56
Youth 35
Children 14

Highlights:
Four baptisms for the month of June. We are once again thankful to the Lord that He continuously adding to the church those who were being saved. Last June 28 we baptized 4 souls. Here are the names of our newly baptized members: Sis. Nicole Palomiano, Sis. Belen Curioso, Bro. Christian Aton and Bro. Ariel Alercio. Sis. Belen will go back to Sipocot, her hometown after her baptism. She has been attending one of our churches there anyway. That's why her membership would not be at Naga Church. However, Sis. Nicole, Bro. Christian and Bro. Ariel will be added to Naga Church membership.
NOTE: These are the baptism pictures of Bro. Christian Aton and Sis. Belen Curioso.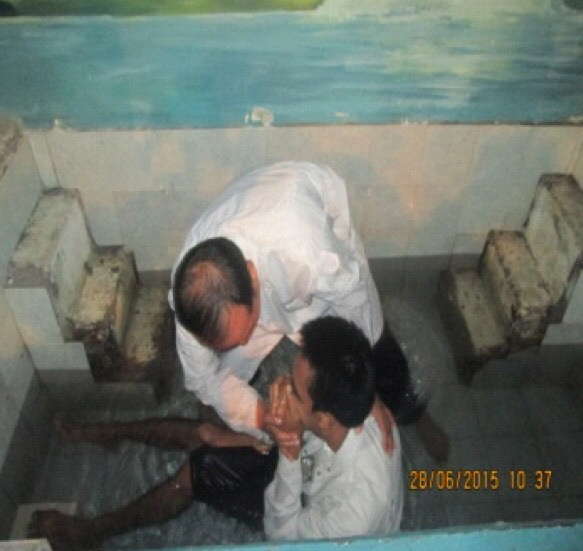 New Students for Small Group Leader Training. Another batch of potential leaders has enrolled on our regular training for small group leaders. Full of excitement they showed up on our first day of training. Now we have 9 students. They are actively participating every Sunday 2pm-4pm. We are hoping that they may continue until they completed our training course.
6th Dorcas Fellowship was successful. On June 13 we held our monthly Dorcas fellowship at Valenzuela's Residence in Milaor. It was attended by both Naga Church women's and other visitors from Sis. Norma Valenzuela's neighbors. Though the message I delivered about FAITH focused on Christian women's it become an evangelistic one considering that many non-members were present. The fellowship was concluded by prayer for the birthday celebrant sis. Norma who wished that DORCAS fellowship be held on her birthday in their house.
Naga Church CYF is striving. Our youth ministry led by Bro. Chris is also vibrant and growing. As a matter of fact our every Friday night CYF is always crowded by many invited friends and classmates of our young people. We thank God that He is drawing many souls to Himself through our different church ministries.
Bicol Church Leaders/Ministers Fellowship held in Naga. Finally, the aspirations of our brethren here in Bicol to unite our church leaders and ministers in one fellowship has been realized. On June 6, we held our first Ministers/Pastors Fellowship here in Naga. Its aim is to strengthen the relationship of our brotherhood in facing our current problems particularly on the issues that seems divisive and controversial. Its goal is also for the purpose of improving our ministries and evangelistic efforts. The idea has emerged since our Bicol Regional Convention in Albay. And now we are praying that this endeavor may be fruitful and successful for the edification of the saints.

Other accomplishment: Our church fence project was through. This is due to the problem we had last summer when the thieves broke in to our church and stolen many important things. Now through the help of our members and church fund, we were able to install a fence made of GI pipe and steel matting. We thank God that He really provides for our needs.
Lowlight:
Our inconsistency about church members and attendance is affected by transferring of our member to other provinces due to some considerations, particularly job opportunities.
Others:
Our summer activities and events have done. And now we are heading toward our 3rd quarter's activities, namely, the Family day and Church Anniversary. We are praying that these activities be fruitful and successful for His glory.
We are not yet through with our church lot debt, that's why we keep on praying to the Lord and promoting to our members the fund raising for church lot. We continue the "Square Meter for the Lord" campaign.
Brethren, it is our earnest desire that we can harvest many souls and advance God's kingdom through discipleship and evangelism. However, we cannot do it alone, we plead for your support and prayers. Thank you very much. May God bless us more and more.